TStv Jolly decoder – Just like it was promised in October that all channels remains free till the end of November before the official sales begin, TStv will commence sales of its decoder beginning from November 28.
Like I said, don't give up on the PayTV operator TStv, they might be fighting some battles but it's not stopping them from rolling out their services officially.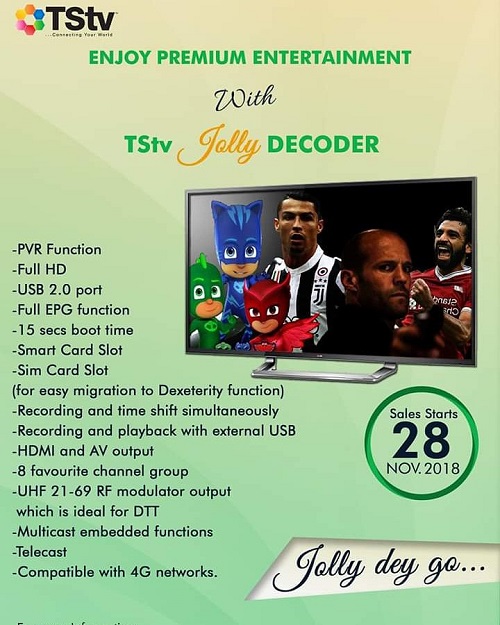 TStv took to their social media handle to announce the official sales of its premium Jolly decoder beginning from November 28, 2018.
Features of TStv Jolly Decoder
-PVR Function
-Full HD
-USB 2.0 port
-Full EPG function
-15 secs boot time
-Smart Card slot
-Sim Card slot (for easy migration to Dexeterity function)
-Recording and time shift simultaneously
-Recording and playback with external USB
-HDMI and AV output
-8 favorite channel group
-UHF 21-69 RF modulator Output which is ideal for DTT
-Multicast embedded funtions
-Telecast
-Compatible wiith 4G networks.
The price has not been announced but I'm guessing it will maintain the same price tag with Sassy Decoder or a slight change since this is not Dexeterity Decoder.