Facebook has introduced a videoconferencing tool called "Messenger Rooms" in response to Zoom massive surge in demand for video chats during the coronavirus pandemic while taking its first steps toward a planned integration of messaging products across its apps.
The videoconferencing tool, Messenger Rooms, will enable as many as 50 people to participate in a call, the company said in a statement. It will display a tiled layout of participant videos — up to 16 on desktop and 8 on mobile — resembling the design offered by competitor Zoom.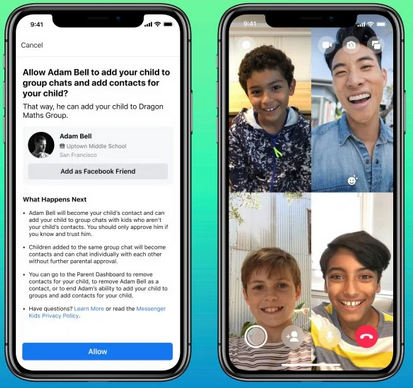 Zoom's share price sank 3.7% from the day prior to about $163 in the minutes following the announcement, after hitting a record high of $181.50 earlier in the day. The move in Facebook's shares was less dramatic, up 2.4% from the previous day to $189.51.
Facebook users will be able to share links enabling non-users to join Rooms via a web browser on both desktop and mobile, eliminating requirements to download an app or create an account as on other services.
There will be no time limits on the calls.
How it Works
If you join a Room through the Messenger app, then you can play with AR effects and new features like immersive backgrounds and mood lighting. The creator of a Room chooses who can see and join it, and can remove anyone from the call at any time, as well as lock the Room if they don't want anyone else to enter. And you can of course leave a Room whenever you want. Rooms you create through a Facebook Group are open by default to members of that Group.
The Rooms feature is not end-to-end encrypted, because "there are significant challenges" to providing such encryption for video calling with large groups of people. But Room content is encrypted between participants and the Facebook servers, which are "placed in only a handful of countries that have strong rule of law".
With the launch, Facebook joins a crowded field of companies rushing to dominate the market for video meetings, as millions of people locked in their homes around the world are suddenly reliant on the tools for work, school and social life.
Facebook said in its statement there were now more than 700 million accounts participating in calls on WhatsApp and Messenger each day.