In your early days of using Facebook, you must have made some childish posts on the platform and now that you are grown, you wish to delete it but don't know how to go about it.
Well, Facebook has introduced a new tool that will help you mass delete your old posts on that platform.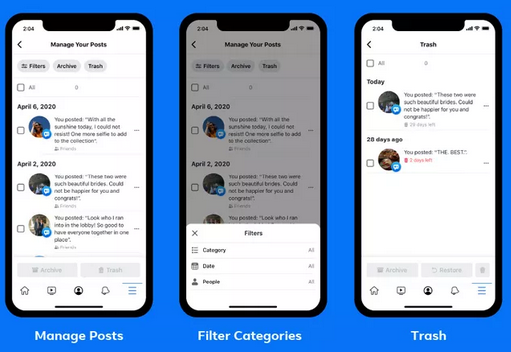 Facebook is launching a new feature called Manage Activity that lets users delete their old posts. It can be used to delete individual posts or in bulk, and Facebook says it will offer filtering options to help find posts with specific people in them or in a certain time range. The feature will come to Facebook's mobile apps first.
According to Facebook, the feature is meant "to make it easy for you to curate your presence on Facebook to more accurately reflect who you are today." As an example, it suggests that someone might want to delete old content when they're about to start working full time after college or remove posts that remind them of an old relationship.
Users can head into their Activity Log to find the new tool. Manage Activity lets users seek out posts under a certain category, certain dates, or with certain people tagged — useful if you'd rather not keep a former relationship in sight of everyone.
You can then select whether to archive or trash those posts. Archiving removes a post from a person's timeline, but it can still be seen through the Archive tab of the Activity Log. Trashing a post, much like the recycle bin on your computer, holds a post in the trash can for up to 30 days before it is deleted entirely from the account.
Explore it and let us know what you think in the comment.