It's another time of the month where you begin to consider the cheapest data plans to go for most especially if you are in a location that your desired network is fast enough.
Before you subscribe for any of the packages below, it is important you check which of the network is fastest in your location using this link here.
MTN:
If you are an MTN user, it will be a completely waste of resources subscribing to normal packages when you can always get double data on all of your subscriptions.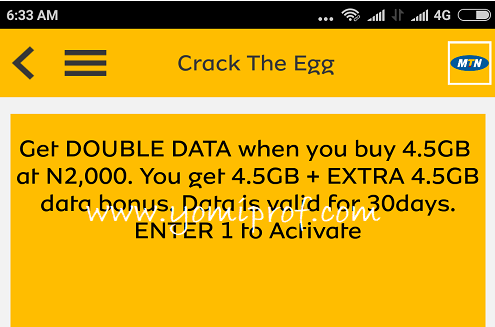 You can get 9GB for N2000, 20GB for N3,500 or 30GB for N5,000 to last you for a validity of 30 days.
How to Get Started
Simply Dial *121# and choose "Data Offers for me" or download the MyMTN App  from Play store if you don't have it
>>Navigate to Deal Zone
>>Click on Crack and you'll get a message like this "Get DOUBLE DATA when you buy 4.5GB at N2000. You get 4.5GB + Extra 4.5GB data bonus…"
>>Accept and your data will be activated.
Glo Stay At Home Data Offer:
Glo Stay Home data plan is not an entirely new plan, instead, it offers you an extra 20% extra data if you renew your plan, regardless of the data plan you buy.
Meaning, the customer will automatically enjoy up to 20% more data when s/he tops up his data. The percentage of data bonus enjoyed, however, depends on how much data he subscribed to.
See more details about it here
However, to enjoy more data on Glo network, you need a New Glo SIM on Yakata Plan… You can get ridiculous data and airtime on Glo to call any network at any time… For instance, if you recharge N2500, you'll get up to 8000 free airtime to call all networks, up to 14GB of data and lots more.
Dial *220*2# to check your Yakata Bonus balance and *127*0# to check your data balance.
Airtel Offer:
At this point, triple data offer is no longer active but you can get some amazing data offers from MTN myOffer menu depending on the status of your SIM. For instance, you can get;
1GB for N300 (Daily)
2GB for N500 (Daily)
1.5GB for N500 (14 Days)
3GB for N1000 (30 Days)
6GB for N1500 (30 Days)
9GB for N2000 (30 Days)
16GB for N3000 (30 Days)
Simply dial *141# and goes to MyOffer to check the deals available for you. Dial *140# to check your data balance.
Remember that you can still get Free 1GB on Airtel if you download Airtel App from playstore. See details about it here.
9mobile NG:
Nothing has changed about 9mobile, data plans still remain the same… but you can check the newly revamped 9mobile data plans here to see the ones that fit you.
We hope to see amazing data deals this month from all telcos. Stay tuned and Stay Safe!
Finally, don't forget to check how to make your data last longer, stop anonymous applications from consuming your data here.
Via | YomiProf