Apple has unveiled how much it will cost you if you break your newly launched iPhone 12 screen, even though it was teased to be 4 times harder to break than the glass on the iPhone 11.
At the moment, Screen replacement pricing is only available for the iPhone 12 and iPhone 12 Pro, as these are the only devices from the new range which are currently available to buy in the United States.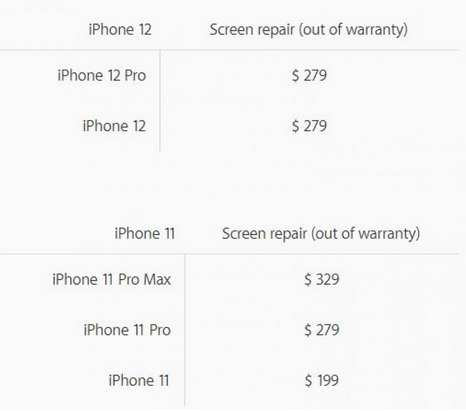 The iPhone 12's new OLED display will costs $279, which is $80 more expensive to replace than last year's iPhone 11's LCD panel.
It is expected that the screen repair price for the much smaller iPhone 12 Mini will be significantly lower than those listed above, while the price for an iPhone 12 Pro Max screen repair may be greater.
The cost to repair other damage (such as liquid damage) has remained $549 from the iPhone 11 Pro to the 12 Pro, but has grown from $399 on the iPhone 11 to $449 on the iPhone 12.
The morale of this article is "Do Not Break Your iPhone 12" screen if you ordered for one.