Though I have already talked about this
WeChat
app before and how
you can get #1,000 voucher from
Konga.com
to shop online. Am glad good numbers of
people were able to get the #1,000 voucher. I will like to inform us that you can
also get #10,000 vouchers from
ShopKonga
.
Like I said initially, that
ShopKonga
is one of the largest e-commerce site in Nigeria that allow you to buy anything
online and then ship it down to your doorstep anywhere in Nigeria. Imagine you
with #10,000 you can shop reasonably online and have it delivered to your house
free of charge.
I know some of us will be wondering why ShopKonga is giving away free vouchers to Shop online; this is just their give away season and i wouldn't want you to miss out of it.
You don't have anything to lose but everything to gain. It
is not too late for those who are just
learning about it now to partake. Just click
here
to learn more. Those who have gotten #1,000 vouchers, do the following to get #10,000 voucher now.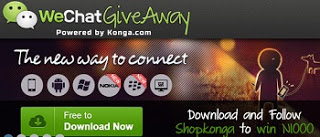 How Can I Get #10,000 Vouchers From ShopKonga?
3.
Search and follow ShopKonga on WeChat
Once all this is done, send their email to ShopKonga on
WeChat and in the next 48hours, you will receive your #10,000 voucher. Mind you, all the friends you invite will equally get free #1,000 vouchers to shop online.
Tested and confirmed… I am Shopping already. Don't forget to hook up with me on WeChat with the user ID Yomiprof.