It 's no news that android users can now browse with their
MtnBis
or BBC subscription on their device using
Droid Vpn
after the China hacker succeeded in convincing
Mtn to stop the usage of Bis plan on non
blackberry device. Not only that, but
even the so called blackberry users can no longer streamline
YouTube videos
on
their device.
It just dawn on me this evening that I'm leaving iPhone
users aside. To balance this tutorial for
iPhone users, I will urge you to fastened up your
seat belt and stay glued to the next information that will follow because I'm
about to embark you in an unknown journey; trust me, you will be safe.
Let me quickly introduce you to
TunnelBear
VPN is the
world's easiest to use consumer VPN software that securely "tunnels" your
internet connection to locations around the world. TunnelBear can be used to
protect your privacy, to bypass internet censorship made by some unscrupulous China
hackers who now work with
MTN
in destabilizing our network.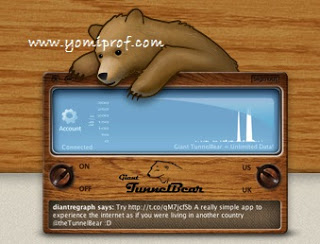 TunnelBear is a free iPhone/iPad
and Android app that gives you 500MB of
free data each and every month.
How Can I Download TunnelBear?
1.
Before you download, make sure you are
running iOS 5.0 and latter; Click
here
to download
TunnelBear
2.
Run and install TunnelBear on your device
3.
Create your account
here
and sign in from your
device
How Can I Set TunnelBear Up With My BIS Plan
1.
Once you have successfully signed in from
device,
2.
Go to settings —> VPN —> Click On for
VPN
3.
Make sure you Bis plan is actively connected
4.
Open your Safari Browser or any other browser
and surf until you are tired.
That's it friends.
NB: You are only entitle to 500MB – 1.5GB per month free data as a
free user, you can always upgrade for an unlimited account.