I can seriously perceive the spirit of festivity is already here; no
wonder
Airtel
decided to amaze her
subscribers by introducing a package that will allow everyone to browse the net
free of charge called Airtel Free zone.
Friends, you can do amazing things with
Airtel Free Zone
such as:
==>Such as performing a search on Google and browse the
internet for free
==>Send and read emails on Gmail for free
==>Stay connected on Google+ for free.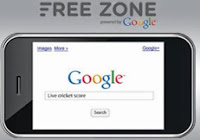 I can simply bet that this yuletide season, you may not be spending a dime on data except otherwise.
How Can I Activate Airtel Zone?
==>Then start searching or sign in with your Google account to access Gmail
==>If you don't already have a Gmail account, you can
sign up here.
Or you can simply
send Free Zone to 881 and it will be activated for you.
One amazing thing I love about this
Airtel
Free Zone is that
the free data usage on Free Zone is available up to a limit
of 1GB per month. Enjoy it while it last.