It is no longer news that everyone wants and love privacy,
and therefore will love to protect their device from unauthorized intruder by protecting
your text messages using apps like Go SMS Pro, but
what about other areas of your device? What of, say, Gallery, where you may
have private photos
that you don't want people snooping around. Maybe you want
to hand over your phone to a child and are afraid they may screw up the phone
settings? For such instances, App Lock (Smart App
Protector) is a good choice.
This free app is one of the most powerful ones around in the
Google Play Store of its genre. The app allows you to lock individual
Android
apps
using passwords, patterns or gestures, and lets you configure a different
setting for each locked app, so that knowing one pattern/password wouldn't
jeopardize everything else.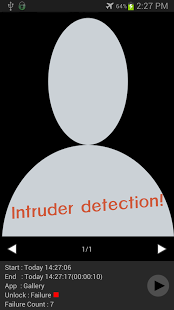 One of the thing that made me love this app is that
App Lock
can take pictures of someone who tries to unlock your phone without the right
password/ pattern/ gesture, so you'll always know who the culprit was. The app
allows locking individual settings as well, such as Bluetooth toggle, Wi-Fi,
cellular data etc. A pretty solid and comprehensive overall package, we must
say, that left us impressed.
Where Can I Download This App?
You can download it
here
or google play directly on your
device.