Most new generation android phone do come with an automatic
call recording app. But should in case yours is lacking this features, it is
pertinent to read this tutorial below.
Recording incoming or outgoing calls is very important in
some cases because it helps you to keep track some important calls for future
reference. You can listen to the
conversation over and over again with just a simple play back.
4 Best Call Recording App For Your Android
==>
Record My Call
: Record My Call is a simple and free
call recording app without many bells and whistles but the recordings
themselves. The devs do warn you that for Galaxy handsets the audio source has
to be changed from "mic" to "phone line," and have a list
of compatible phones that the call recorder works with.
==>
Auto Call Recorder:
This app lets you automatically record all calls, or choose to record
only those not from numbers in your contacts list. You can share the recordings
and there is a recent Dropbox integration.
==>
Call Recorder:
This is one of my bestie as it allows
you to auto password some of your recorded calls preventing anyone to gain
access into it except you.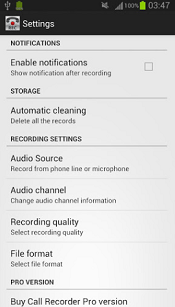 ==>
Galaxy Call Recorder:
I think I'll recommend this for
Samsung Galaxy users… Galaxy Call Recorder sports a nice polished interface,
and plenty of functions like disabling records by contact, sharing via Google
Drive, SkyDrive and more, as well as settings to disable recording when a
headset is plugged or Bluetooth gear connection.
What sms is to an individual is what call recording means to
a real business man. I know you've got some other ones you are using on your
device and you can kindly share with us here.