If you've been having difficulty subscribing to any Glo packages of all kind
and you've not been able in one way or the other to contact their customer
agent, or you made a subscription and it's spent days without activation, then Glo Telecom has made
it easier for their customers to contact them.
You can now chat with a Globacom Customer Care rep online via their site
Globacom, any time any day. To chat immediately with a Glo customer care
representative, just click on the chat icon available wherever you are on the
Globacom website, enter your name and your message and you'll receive instant
response from their online CC professionals.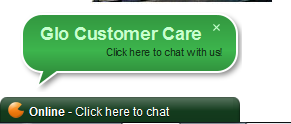 The live chat service is provide a quick avenue to reach the customer care
when you are online especially if you're finding it difficult to reach them via
phone-in call (dialing 121 or 200 from your phone).
Finally, Glo just launched 3 in 1 recharge options but I'm not going to dive into that except for the fact that if you dial *223*PIN# option to load a data bundle, you'll will get an extra 385MB of data
when you load N1000 credit instead of the 350 MB of free data you
would have received if you had used the conventional recharge option to
load the same N1000 recharge credit. Though, I still prefer my Blackberry plan on non bb device.
I'm loving Glo every day… Remember that you can always top up your Glo blackberry plan
on Android as well as getting 200% bonus on any recharge to call any network so
long you are on Bumpa package.