I'm going to unleash another secret to you all today and I bet
you are going to thank me by the time you are through reading this post. I know
every business thrive for a platform to be known globally and most importantly,
strive to give her customer the best services ever.
Today I'm going to teach you how to develop an
Android app
in 5 min
for your blog, business or
whatever way you are rendering services to humanity via the net. Not only that, what I'm
about to teach you will either make you a boss or a servant. A boss in -terms
developing Android apps for Company or fellow bloggers; and a servant in –
terms of inability to develop an app atleast for yourself.
So I'll suggest you leave whatever you are doing right now,
grab a cup of coffee, stay glued to your device screen and ride on with me. I'm
going to pilot you on this journey and I promise, you won't crash land.
Having an Android App for your blog like
yomiprof's app
its something that is
extremely important; more so, it tells the world that you are a professional.
You don't need any coding experience or any knowledge at all.
How Can I Develop an App For my Blog/Business site?
==>Enter the url of your business or blog in the field
that says "Create an app", and click on "Create Now"
==>It will bring you to step 2; carefully fill in your
details including your app name and business description
==>Choose the category you blog falls and then click on "Create
app".
==>It will bring you to the next stage where you'll be
required to fill in your credentials and email address
==>Click on submit and it will bring you to your
dashboard. At this stage, you app is almost ready for the last stage.
==>You'll be required to upload 4 quality screen shot
before your app will be publish on Google Play Store. This screen short can
easily be taken by striking the "Prt SC" key from your keyboard or if you are
on mobile, ScreenMunch it and upload it directly.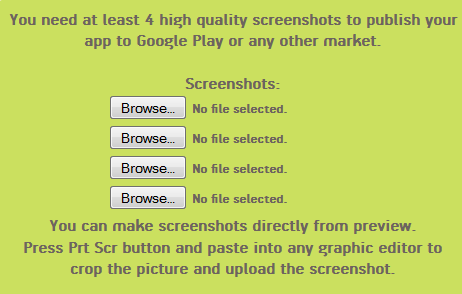 ==>Once you are done uploading, click on submit… Gbam! You now have
an
Android
app for your blog. Before it will be uploaded, you have to first of all test it on your own android
device to see what you've done and if
their be need for any adjustment.
Once you've successfully tested it, you'll be presented with 4
options as seen below so choose the platform you want to upload your app.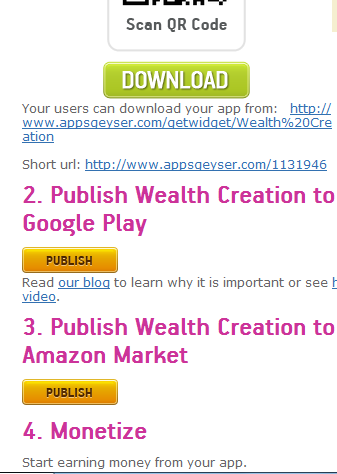 Finally, you can then make money with your app by signing up
with Admob. Let me pause here before I mistakenly dive into how to create your site app for BB Appworld and iTunes so that you can ask your questions.
Remember you can make cool money building apps for your co bloggers. It's so simple and fast!