Just a run down of what has been going on for the past few
weeks before we roll the cutton for October. MTN Bis still rocks on All Android
device and PC flawlessly, most especially if you are a movie freak or download
freak. You can run the MTN daily Bis with 3Gb downloads upwards if you are
lucky.
To Configure MTN BIS on OpenVPN For Android,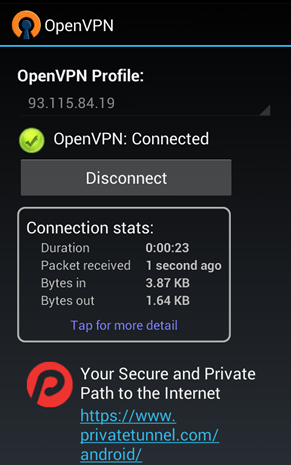 ==>Run and install it if you don't already have it
installed on your device
==>Download OpenVpn config file to your
phone or sd card
here
==>Launch the import OpenVpn for Android on your Android
phone>>>Click on Options>>>Import>>>Import profiles
from SD card, then locate the
config file(s) you copied to your device
==>Then click on Select to allow OpenVPN
for android to save the profile (Repeat the step for other configuration
profiles).
==>Subscribe for any
MTN Bis Plan
or
test run it with MTN Bbcday by sending Bbcday to 21600 for #100
And make sure you set your Apn to:
web.gprs.mtnnigeria.net; password and username: web
==>Now go back to the OpenVPN for android and select your favorite
M4code free openVPN server from the list.
Connect and Enjoy.
It also rocks for PC users too. Just
enjoy this while it last. I'm sure Mtn knows what they are doing.