With the emergence of different chatting apps, the word
boredom should be strange to you. I know if a survey is to be
carried out and this question is asked, "Choose between your mobile device and
your spouse" so many people will prefer to choose their smartphone
because it's not only number one antidote to boredom but it keeps you connected
to real people at any given time who shares the same vision with you.
KoboIM
is an instant messaging, social networking, and
marketplace-classifieds app, with over 1000 Chat rooms, available for download
in 16 countries. With
KoboIM
users get the chance to make new friends from
around the globe, network, advertise your goods and services, buy and sell used
items, and much, much more in a most secure environment.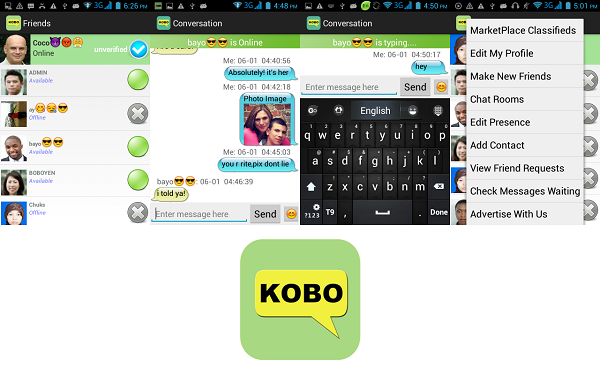 Why Should I Use KoboIM?
==>Rich Presence, Message Broadcast, Multi-User Chat,
File/Photo Sharing, Emoji, Offline Messages/Message Waiting, Personal profile
editing, MarketPlace Classifieds,
==>You can also shop, buy & sell merchandise at the
marketplace (if you have been looking for a place to sell your old, inferior
smartphone, look no other place but KoboIM)
==>You can apply for Jobs to every job seeker with KoboIM
==>Meeting thousands of kobo users in over 253 countries.
==>It has online games to every game lover and E-commerce
section just to wow you.
Compatible Device
At the moment, it is available for
Blackberry
,
Android
&
Nokia phones.
Where Can I Download It?
For Android users, download it
here
For Blackberry users, download it from appworld
It is new, it is fresh and it is so rich… look no other
place than Kobo Messenger.