I don't know the relationship between
RIM(Blackberry manufacturer) and Mtn  Telecomunication company. Earlier this year, they intentionally
blocked the usage of
Mtn bis
on pc and every other device. Except those who are
using a tunneling vpn like
Sandwish
, Pdproxy, Tunnelguru etc. where still able
to surf effectively with Mtn bis on their device.
Some hours ago, the new hacker they
just employed succeeded in blocking UDP port 500 on every tunneling software; and
I'm pretty sure a lots of us have been having challenge connecting to the net
even with your droid vpn. But the truth still remain, there is no one way of
surfing the net.
For Android
users using
Droid vpn
on their device,
change your connection protocol from UDP to ICMP and continue to surf the net.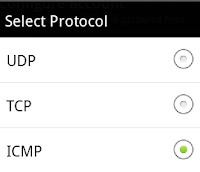 If you are using Tunnel guru on PC, equally change your protocol settings  from UDP to ICMP and connect.
 
For Tunnelguru users with MTN BIS
MTN BIS users using ICMP ( Mode-2). For high Speed, Stable Connection, make
sure you  disable Antivirus + Firewall.
For Slow/ Unstable Connection.
Reinstall TUN TAP Driver once atleast  in a week
For PD Proxy Users, ICMP equally rocks with full time speed. Remember
that if you want to download bulk files, always use BBCday.
My job is to make internet surfing cheaper for everyone; just relax and
dine with me.