Sooner than we think,
Whatsapp material design
finally
arrives on playstore and just some couples of hours ago, an update was release
Version
2.12.87
fixes some of the last remnants of Holo in WhatsApp, materializing the
calling interface, changing the default wallpaper to a nicer one, cleaning up
the search bar UI, and removing those pesky Gingerbread icons that were
forgotten under the More menu in a chat's overflow options.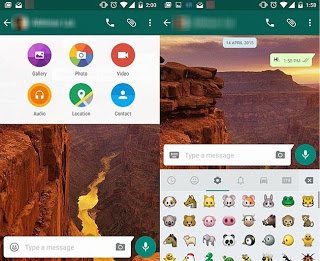 But WhatsApp team seems to have removed the
Google Driveback up option
that was added to the previous updates. If they can bring this
back, it will be nice. 
You can get the updated WhatsApp
here
WhatsApp Plus & Reborn User
There is also an updates for
WhatsApp Plus
to  
v1.93
&
Reborn v1.80
 and I bet you
are going to love these updates. If you want to know what whatsApp feel like,
then try
WhatsApp
Plus or
Reborn
.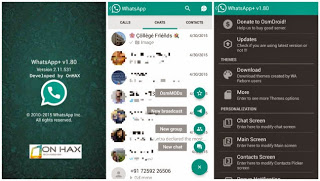 Key Features of Whats App Plus
==>COLORFUL :
Basically it is a customizable WhatsApp where you can change lots of colors,
sizes, and many other things.
==>EXTRA UPLOAD LIMIT : In
addition you can increase upload media limit (stock limit is 16Mb) to send large
music files or videos.
==>SEND ORIGINAL PIC :
You can increase quality of pictures sent (by default resolution is decreased
quite a lot)
==>AD FREE :
No adds as per original WhatsApp
==>QUICK SHARE :
You can share music just with one click.
==>PARTIAL COPY/PASTE
: You can select the part you want to copy from text rather copying whole
text and send it to people in your contact.
==>WATCH STATUS :
You can directly watch status in the chat screen from WhatsApp Plus v1.93
==>HIDE PROFILE PICTURE :
You can hide contact profile pictures and show phonebook pictures (in chat
screen).
==>LOAD OF THEMES :
Built-in theme viewer and downloader. Check WhatsApp+ users themes online and
apply theme if you like.
Updates of New Version: 1.93
==>Hide Last Seen MOD
==>Blue Tick Hide MOD
==>Double Tick Hide MOD
==>Hide typing.. MOD
==>Change Icon
==>Action Bar color changing
==>Navigation bar color changing (Lollipop
Only)
==>Status Bar color changing (Lollipop
only)
==>Fastest Moded Whatsapp
==>AntiBan Code Added
==>WhatsApp base 2.12.5 (Play Store)
==>FAB Added
==>Change chat balloon colors.
==>Set a pattern lock on WhatsApp
How Can I Install It?
1.       First
Download WhatsApp plus v1.93 or Reborn v1.80 APK file and save it in your
PC or Phone.
2.       Take
the Backup of your chats and broadcast lists.
3.       Delete
or Uninstall the WhatsApp which is already available in your Device.
4.       Open
the APK file and install the same in your Android smartphone.
5.       Now
follow the screen instruction. Accept the installation with the "Accept"
button.
6.       Congratulation,
now you successfully installed the WhatsApp PLUS v1.93 or Reborn v1.80 in
your device.
7.       Now
Restore the Backup to get all chats and broadcast list back.
8.       Enjoy
WhatsApp Plus & Reborn.
Where Can I Download it?
Download WhatsApp Plus V1.90
here
Download Reborn V1.80
here
If its now WhatsApp+, it can't be like WhatsApp
plus.