Tecno Phantom 5
was launched few days ago and 80% of youths,
techie addict has been airing their view on the device. Phantom 5 is a great
device first of its kind to support 4G LTE within Nigerian Market, what InnJoo
escaped by launching I
nnJoo Fire Plus
in Nigeria instead of Fire Pro. Tecno has
actually done a good Job. But what I don't really understand is the word
Premium Flagship Device
.
Tecno Phantom 5 is said to be a premium device thus going
for N70,000. I've heard and read a lot of reviews on this device and its awesome
but on the contrary, some people said…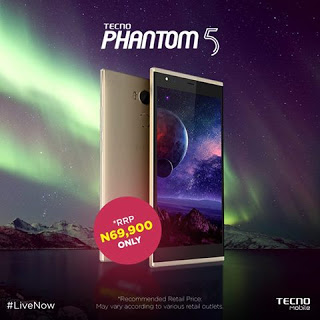 "Xiaomi produces better phones at very good prices…i would
go for other brands all day. 70k ke? The phone suppose be like 55k tops.. Umi
iron offers similar specs and is 43k plus dedicated site for custom roms and
development.. Only diff is umi iron has eye scanner security and this tecno has
fingerprint."
Another said
"On the flip side, 70k would get you a Galaxy NOTE 3. and
that device has better specs than the phantom.
The note 3 has mhl, and a plethora of sensors that the phantom 5 can't phantom.
the infra red on the note 3 can be used to control your electronic devices, tv,
hifi, decoder etc.

Air gestures are unknown to the phantom 5"
Another said,
"
Now over to my concerns
about the Tecno Phantom 5
1. Tecno P5 Processor is dated OctaCore processor (2013) vs Xiaomi RN2 Mediatek
MT6795 Helio X10 (2015)
2. Cost wise, Tecno #70,000 vs Xiaomi RN2 #45,000
3. Battery wise, based on experience and past product launches, Tecno phone
batteries are not properly optimsed for thier devices, wacky, unreliable and
false capacity.
4. No OTA updates. Unlike well established and credible alternatives like
Xiaomi, Meizu, Infinix etc, all Tecno devices are a pain in the a55 when it
comes to product support and updates.
5. Touchscreen and Software Issues. Techno is known for overhanging,
unresponsive touchscreen after a month of purchase and many more software
related problems.
6. Android OS transition. Moving from one Android version to another means a
New Product Launch From Tecno. The next iteration of the Phantom series will be
a new product running android v.6, Marshmallow."
My view about this device is not of critics but to really
understand what a premium flagship device means. Does it mean that this set of premium device will receive OTA update?
Will
you spend N70,000 on this Phantom 5?