iOS 9
was rolled out hours ago and I
can tell you that you don't need to be buy
iPhone 6s
before you have this
newest update. The biggest of it all is the battery.
5 Notable features of iOS 9
==> It can predict what apps you
want to use
Apple's calling this feature
"triggers," and basically allows your iPhone to make an educated guess to which
app you'll want to use based on a particular action.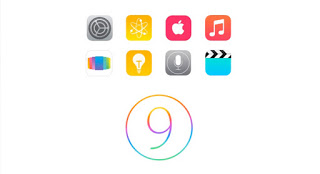 ==> Siri is also suggesting what
you might want
Hoping to give the iPhone a Google Now
alternative,
Siri
has been updated to now offer her own suggestions. This
includes anything from apps you might want to use, places you might want to
visit or people you might want to talk to.
==> Battery life
Apple iOS 9 has more power efficient
and includes a low-power mode to save battery even further. This works much the
same way that similar modes do on Android by dimming the screen and limiting
apps that run in the background.
==> You can hide all those
personal selfies
In iOS 9 you can hide all those
personal or secret photos at once. In your camera roll, tap Select and choose
all the images you wish to hide. Then tap the share button in the bottom-left
corner and choose Hide.
==> Unknown caller suggestions
In iOS 9, your iPhone now has the ability to
suggest callers you don't have in your contacts.
How Can I Update to iOS 9?
Launch Settings
Tap On General
Tap on Software update, wait a while and you
should get the iOS 9 software update available.
Alternatively, you can connect your
iPhone or iPad to your PC and use your iTunes to update it directly. File size
is 1.8GB depending on the device.