It can be so annoying when you keep receiving spam messages
from an unknow email address most especially when it contains what you didn't subscribe
for. Spam messages are so common this days bombarding your email with
irrelevant messages.
All thanks to google that has provided a permanent solution
to Block, delete and unsubscribe for such email for life. The new block feature
lets you block specific email addresses and the unsubscribe option will enable
you to opt out of eligible mailing lists directly from the Gmail app, which
comes handy for unnecessary newsletters.
How Can I Block SPAM Messages or News Letter From  my Gmail?
==>Open the email sender message you want to
block>>>Click on the right arrow by the right hand side and scroll
down to block and unsubscribe from that mail as seen below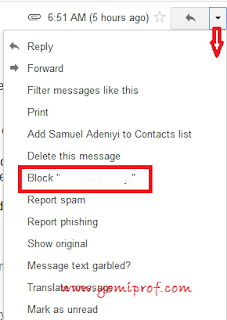 That is it, any incoming messages from that individual will
be move to spam box for life.