Why are we even killing ourself over Tecno Phantom 5 premium
device? While Tecno and its entourage seats in their office and laugh in
chinese. Do you know that Tecno owns Infinix and iTel… 
Here is an excerpt from  an article written March 4,2013 by Mr Mobility
 of 
Mobilityarena
… Tecno and Carlware
make up a conglomerate mobile brand called Infinix. The Infinix brand produces
and sells self-branded android smartphones…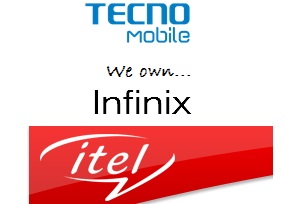 Another excerpt from an article Sept 15, 2015 by same author
… Whether you buy a TECNO phone or an Infinix phone, your
cash ends up in the same coffers. In other words, they are siblings. TECNO
and Infinix have the same parent company.
The strategy at
work is that Infinix addresses the budget end of the smartphone market
(the bottom of the pyramid), while TECNO makes a pitch for the high end.
TECNO and
Infinix are not competitors. They are two sides of a coin targeting two
different segments.
Here is another excerpt from an article written Nov 2014 by
Seyi Albert of Thebleet
… It paid off for Tecno and more opportunities were even spotted.
Soon, there was speculation that Tecno had acquired a part of Mobiwire, a company
that is an offshoot of Sagetel (Sagem Mobile's
Manufacturing plant). The company is today called Infinix Mobility, and the goal was simple. Tecno
was to service from Lower end up, while Infinix did Mid range down, taking up
two disparate markets. The Infinix name is in fact axiomatic to be more high
end.
If
you had checked TecnoTelecom.com
before it was redirected to Tecno-Mobile.com,
you'd have noticed a portfolio widget by the footer that included Infinix as one
of the brands owned by Tecno. So it is like the
Toyota-Lexus/Honda-Acura/Nissan-Infiniti plot. The later is the high end or
luxury version of the former.

This is just a game play. Tecno owns all
your infinix smartphones including your much appraised Hot2, iTel smartphones and Tablets. This is why they call
the Phantom 5 Premium device and they were never bothered about the price even
when Nigerians were ranting and chanting. Tecno  are big boys.
What's your thought on
this?