Update:
AliExpress
11:11
promo is
Live
and it's only men't for today. Go ahead and check for some of the cheapest devices you wanna get.
Don't blame me if I bombard you with too much coupon this 'ember'
month… it's simply because there are two
most important days to buy things online which is 11.11 or Black Friday.
Ali Express is on tour this route giving away $100 coupon meant
only to be use on 11.11. I guess some of you are already wondering what is the
meaning of 11.11 again? The truth is 11.11 is the biggest marathon e-shopping
online sales festival. It only happens just in one day and Alibaba don't want
you to be left out in this.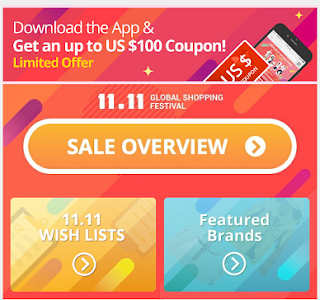 How Do I Get Upto $100 Free Coupon Code Usable only on 11.11? (Mobile Only)
==>Login to your account from the app
==>Click on the 11.11 promo and you'll be required to
enter a captcha code.
Then you'll be credited.
Note – It is based on first come first serve… if you are not
too lucky, you'll only get $4 coupon code. Aside of that their will be massive
discount only on November 11.11 alone. I'd already seen a laptop going for 66K
(8GB 500GB HDD with 2.6Ghz processor).
Don't miss out