Airtel
will never seize to amaze me, From weekend 1GB plan for 100 to free N25000 when
you unblock or re-register your Airtel sim to this one again. Hmmm… Is this the
work of Ifeanyi Uba the man behind dollar fall?
Well
Airtel has just announced another superb offer for business owners or if you
are such that just don't like disturbance because this offer allow you to use
two numbers on 1 sim card.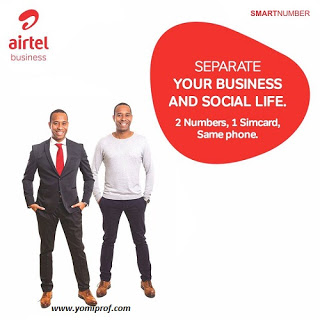 It
is absolutely absurd using two Airtel sim (one for business and the other one
for your normal line) when you can get 2 numbers on your single sim. Now you have the
option to separate your business life from your social life with one Airtel
sim, two numbers.
How
Can I Go About it?
Subscribe
to smartNUMBER. Send keyword 'SUB' to 619 from your Airtel line to subscribe. Follow the prompt to get you started.

Make the smart move. Think Airtel, think innovation.