Hello friends, I guess this
feature is really going to interest you most especially if you are using Xiaomi
products. I was just playing around with my fabulous
Redmi note 3
, rocking the
hell out of that device, taking illegal selfie when l discovered that this sweet device auto detect my
age… I was like WTF!
MIUI
is the Xiaomi custom developed ROM based on Android
platform. If you've not heard about MIUI before, then you are not a fan of
Xiaomi
… the apple of China.
MIUI 7.1 is the latest update rolled by Xiaomi to all its Mi
tablets and smartphones. As usual it comes with tons of new features and
performance improvement. Auto-detect the gender and age of the photograph while using MIUI camera.
This feature is so sweet and I guess I'm not tempting you to get one for
yourself?
How Can I Enable
MIUI Camera to Autodetect Gender And Age of Photograph?
Step 1: Turn on the Face detection from camera settings. by going to Camera >
Swipe right > settings > tap on Face detection to enable the feature.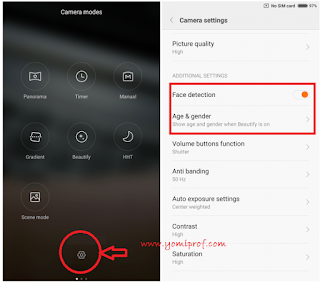 Step 2: Now you can access the
age & gender settings. From there, enable 'Show age and gender when
Beautify is on'.
Step 3: Once enabled, head back
to cameras, choose selfie mode and then turn on the beautify mode from the star
icon located at the bottom.
Step 4: Take a selfie and watch the age and gender detection feature
in display. This is not witch crafty but simplified technology.
Those of you using other brand
smartphones, does your device have this features?