Some of us have
craved for it and now we have it… ntel, the
Oga of
4G LTE
services in Nigeria
has launched a new
VOXHD app
that would enable you to make calls and
send texts over its
4G/LTE
network. Before this, you are only allowed to enjoy
its data services.
The app provide you with crystal clear high definition Voice
over LTE (VoLTE) service, Short Message Service (SMS over LTE) as well as other
traditional features expected from a cellular voice service.
So if you are a loyal Android user, with a loyal 4G LTE
device then I'll advice you loyally go to playstore to download ntel VoLTE VOXHD application.
Main Features of the app
– User Friendly Interface
– Text Messaging
– HD Voice calls
– Contacts integration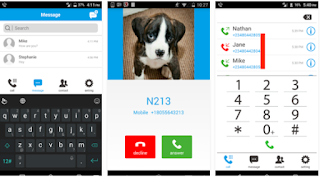 Supported Platform
For now it is available on Android version 4.0 and above.
Where Can I Download it?
Note: The ntel VoXHD is only compatible with ntel SIM cards
and will not work on any other SIM cards.
So download it, test it and let us know your think so far.