This is the new face of the revive
Nokia 3310
unveiled yesterday in Barcelona by Nokia and HMD Global. The feature phone comes with a 2.4-inch QVGA display with a curved and polarized layer on top, along with a full QWERTY keyboard below, measures only
115.6 x 51 x 12.8 mm
and it's made out of plastic retaining most of its predecessor's rounded shape and silhouette.
The new Nokia 3310 is equipped with 16GB of internal storage, along with microSD slot compatible with microSD cards up to 32GB of memory. It runs on Series 30+ OS and comes with Opera browser preinstalled for easy web browsing with GSM speeds.
It supports only GSM 900/1800 MHz networks and lacks WiFi! On the other hand it comes with Bluetooth 3.0 compatibility, FM Radio, 3,5mm audio jack, Media Player, the awesome Snake game and an impressive 1200mAh battery that can offer up to 31 days of stand-by, 22 hours of talking and 39 hours of FM radio fun!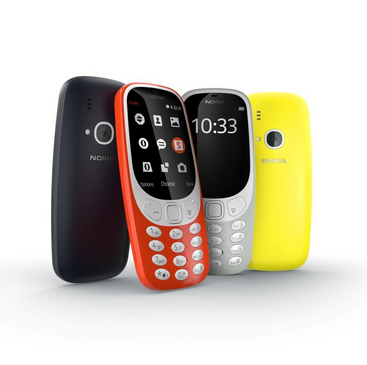 Fortunately enough, it packs a 2MP camera at the back for basic photo shooting and for the price, it goes for just N15,680 (49€).
This is the resurrection of Nokia 3310 that came back from the dead. Will you get a copy for yourself?