This is another handy feature we've been
expecting for a very long time and now, its been added to the
WhatsApp beta
,
very soon it will begin roll out to normal
WhatsApp
.
Those of us who often make use of WhatsApp will
know that conversation can be much crowded most especially messages from family
and friends and atimes you keep looking for that favorite conversation you
need.
WhatsApp
beta
version
2.17.162

(and now 163) helps you solve that problem by adding the Pin Chat feature. The
Pinned chats feature allow you to Pin chats and it appears at the top of the
list regardless of the recency of the last message compared to other chats.
How to Pin Chat?
>>Tap and hold on any chat and you'll
get a new pin icon in the action bar next to the delete, mute, and archive
functions.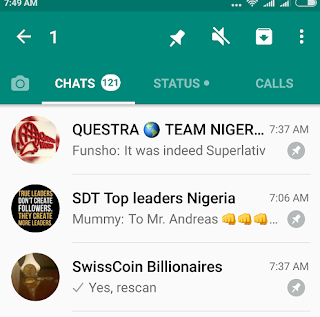 For now, only 3 chats can be pin after which get
a small toast notification message saying you can't pin more.
You can download the latest WhatsApp beta
2.17.163
here