A lot of improvement has been done on
WhatsApp
within the
last few months no wonder
Google Allo
is silently dying of loneliness.
WhatsApp

is undoubtedly one of the largest instant messenger in the world and if you are
a beta user, expect to see the following updates because its already rolling to
some users.
>>Expect to see New Font Shortcut: WhatsApp for Android version 2.17.148 is said
to add new font shortcuts for bold, italics, and strike through. This will
remove the need to add text inside asterisks while typing for making it bold,
or type phrase between underscores to italicize.
>>
Expect to see Revoke Features:
The
WhatsApp
feature
to revoke or edit sent messages has been spotted several times, and recently
was spotted on WhatsApp beta for iPhone and is now heading to
WhatsApp Web
. The
feature would allow users to recall or
'unsend'
messages they have sent to
their contacts, or even edit them.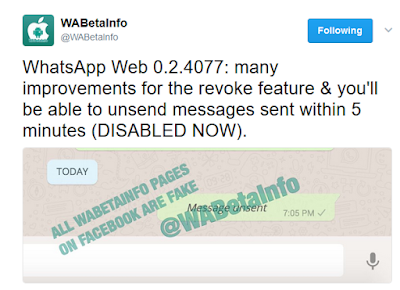 Meaning a new update for WhatsApp Web is coming soon, and
will add the revoke feature to the browser version of the app.
@WABetaInfo
claims that users will be able to
'unsend' messages within five minutes of being sent.