I didn't expect that this will come to an end anytime soon but Airtel NG has
done the unthinkable, dampened the spirit of Airtel data users to their fate.

Few months ago when Airtel unlimited data package was launched, Airtel subscribers
were happy, little did they know that Airtel planned to shatter their joy at
the tail end of 2017. The unlimited 10, 15 and 20 unfortunately has been
stopped for reasons best known to them.
According to Airtel, Unlimited 10, 15 and 20 which goes for N10,000, N15,000 and N20,000 was a promo and now it has come
to an end. Airtel Unlimited 10 15 and 20 allows you to keep on surfing the net
even when you've exhausted your data but at a throttled speed.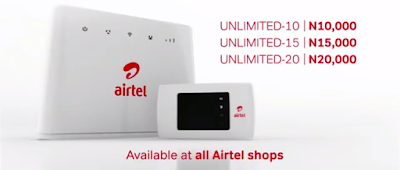 Airtel insider further stated that dialing the same code for unlimited 10
will give you 20GB to expire in exactly 30 days; and 15 will give you 40GB.
This time around, once you exhaust your data, no more surfing. Also, you'll
be able to check your data left over by dialing *140#. Unlike before where data
usage was throttled for the Unlimited 10 when you use 40GB, now once you
exhaust your 20GB, that is all and nothing more.
However, those of you who already have either of the unlimited package
running, you'll continue to enjoy it until your plans expire. This is bad I
must say.