We've seen a lot of updates from the popular messaging app
WhatsApp this year and some of the upcoming features to be added to WhatsApp
has been tipped by an insider
@Wabetainfo
known for publishing upcoming features
of whatsApp atleast 90% correct in must cases.
According to Wabetainfo, this update will be available for
WhatsApp Web/Desktop version in the future. They are currently undergoing
development. So if you are using WhatsApp web/desktop, expect to see this
upcoming features.
Private Replies: WhatsApp is improving the reply feature, and in
future the app will allow the user to privately reply to a message
received in a group.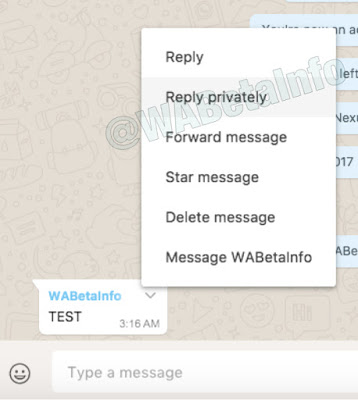 There will be a new option called "Reply privately": when selected, WhatsApp
will automatically open the chat with the contact to send a message. The sent
message will quote the group message.
Picture in Picture Feature: WhatsApp will allow the user to
watch sent and received videos in a new separated window: this is the PiP feature!


A new icon will be available when you're watching the video:


When the user selects this option, the p
i
cture in picture
will be started with the selected video, presenting a new window with a very
nice UI.
All will be available in the nearby future, hopefully 2018.
But I can't wait to have the Admin super power features cos' some ass needs to
be wiped.
Picture Credit: Wabetainfo