Lots of people have been asking if this option is available
online instead of passing through the normal micro-finance banks with neck
breaking requirements. The good news is that it is available online and you can
get in less than 24hours.
There are times that you are just pinned to the wall and you
need a narrow escape out of it but your bank account is reading "red", in such
a situation, getting a loan might be your only option.
Paylater
® is a simple, entirely online lending platform that
provides short-term loans to help cover unexpected expenses or urgent cash
needs. No collateral, guarantors or
application fees required. Just a few clicks of a button.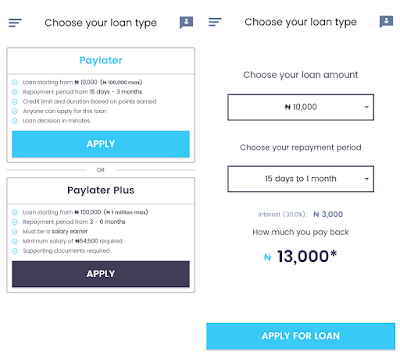 Paylater is a service provided by One Finance & Investments Limited
(RC No: 1044655), a licensed Finance company.


Interest is charged at
a daily rate of 1% which means that if you borrow ₦10,000 you'll have to
pay back ₦11,500, in 15 days, or ₦13,000 in 30 days.
How does this work?
For first timers, the maximum range is N10,000 after which Paylater
expects a total of N11,500 in 15 days or N13,000 in 30 days. There are really
no hassles involved in this as they simply debit the said amount from your bank
account on the due date.
For the application process, Paylater has made it easy
for applicants as they all have to go through their Facebook accounts (which
already has details of each person) to login.
They currently offer two loan packages:
PAYLATER (loans available to all)
& PAYLATER PLUS (loans for salary earners).
Requirements
>>Android Phone
>>Real Facebook Account
>>BVN
Why BVN?
The
BVN
provides all the verification details the company needs
before they can give out loans. It "verify that the individual applying for a
Paylater loan is the same as the owner of the provided bank account."
How Do I Payback my Loan?
On the due date, Paylater.ng automatically debits
your account by the amount you owe, if you are not comfortable with that,
you can pay manually.
Once you log into your dashboard, you will see the current loan
you have applied for and you will also see the PAY NOW button.
Click on it and the page below would come up.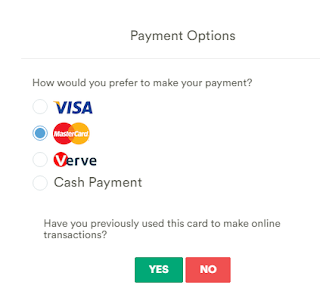 Enter your credit card details appropriately and click OK once
you are done.
How Can I Apply For a Loan?
It's simple! Just follow the steps below to apply for a Paylater
loan:
2. Register your personal details
3. Choose your desired loan amount and duration
4. Submit your application. You will get a loan decision
in seconds.
5. If approved, your account is credited within
30 minutes.
You can chat them up on twitter
here
I know a lot of people who have benefited from this
platform and I'm sure many will still benefit from it too.
Have you borrowed money using
Paylater? Please share your experience in the comments section below.