Technology evolves everyday… just like we were once used to 2G, 3G and 3.5G architecture before the evolution of 4G LTE started rolling out.
Beginning from 2019, we should begin to see smartphones with 5G networks support. This is to tell you that 5G network will be gaining enough momentum next year. However, Huawei has announced that its first 5G-enabled smartphone will arrive next year.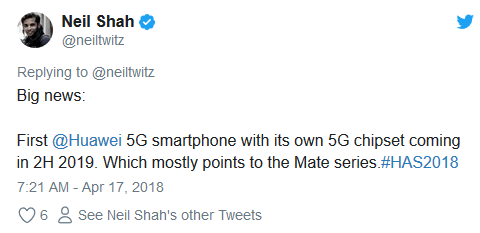 Though Huawei has not confirm the specifications of the smartphone or the name that it will called but considering the timing of the launch (quarter 3, 2019), it's not unlikely to expect that Huawei's first 5G phone will be the Mate 30.

Notable Features of Huawei 5G Phone
The company's upcoming 5G phone will use the company's own 5G modem. Huawei unveiled its first 5G modem — the Balong 5G01 chip — back at Mobile World Congress, stating that it will be able to deliver a bandwidth of 2.3Gbps. The size of the Balong chipset suggests it will end up in mobile hotspots and self-driving cars rather than phones, but Huawei is also working on a 5G modem tailored for phones.
Late last year, at Qualcomm 2017 5G submit, announced that they successfully demonstrated 5G data connection on a single-chip 5G modem—the Qualcomm Snapdragon X50 5G modem.  The company was able to achieve a download speed of more than 1 gigabit per second.
According to what Huawei predicted that there will be 1.1 billion 5G connections by 2025, along with 200 million 5G-connected cars. Imagine you being among the first 1 million people worldwide that will use the first set of 5G enabled smartphone, having a download speed of 1gb per second…