Gradually, Airtel 4G LTE is expanding to other states and very soon, it will cover the 36 states.
Airtel Nigeria has dispatched its 4G  Long Term Evolution (4G LTE Services) in Onitsha, Awka, Nnewi and other major cities and towns in Anambra to boost trade and commerce.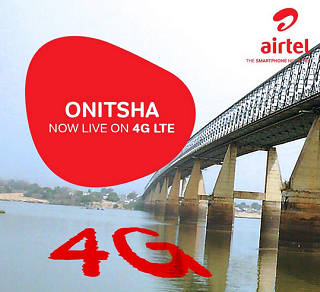 Now you experience what it's like to download 1.GB files in seconds with Airtel 4G services. The Airtel 4G LTE network supports Band 3 (1800MHz) which almost all mobile devices are using.
Requirement to Activate Airtel 4G LTE in Anambra
>>You'll require a sim swap in other to be able to access Airtel 4G LTE services. Kindly visit any Airtel shop near you with a valid means of identification for assistance on your swap request.
>> A mobile device that supports 4G LTE band Band 3 (1800MHz)
>> Airtel is giving out a 4GB bonus data to everyone who activates 4G service
>> You can use your 4GB data to download, stream online and do anything you like. To check your balance dial *140#
So if you are living in Anambra, go and do sim swap to enjoy free 4GB Airtel data.