I must confess that 2018 was the best year for Ntel, and all Ntel subscribers must have enjoyed the network and probably still enjoying the network.
N1000 for 12GB and N2000 for 24GB was a life saver, pocket saver and data saver in 2018. However, few months before the end of 2018, ntel encountered a problem that made them shut down their site(myntel.com.ng) till this very moment.
Subscribing to any ntel data plans in 2018 was a torture, torment and even made some faint-hearted subscribers depressed… because on other network you get 1.5GB for N1000 compared to what you get on ntel network.
This is the 4th day of 2019 and we decided to dig deeper the way forward about Ntel and their wawu plans. Here are our findings below;
Ntel wawu plan of N1000 for 12GB has been discontinued. Unlimited weekly is now N5000 and no longer N3750. The expiry dates for the Revised ntel wawu plan have been reduced to 7 /14 days.
Old WAWU Plans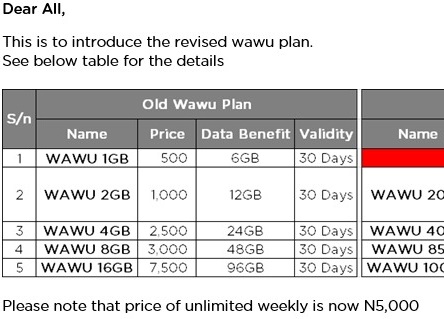 WAWU N500 for 6GB, Validity 30 days
WAWU N1000 for 12GB, validity 30 days
WAWU N2,500 FOR 24GB, validity 30 days
WAWU N3,000 for 48GB, validity 30 days
WAWU N7,500 for 96GB, validity 30 days
Revised New Ntel WAWU Plans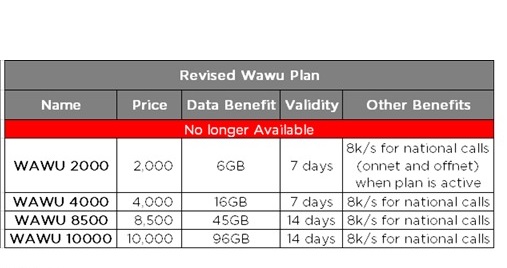 WAWU N2000 for 6GB, Validity 7days
WAWU N4000 for 16GB, validity 7days
WAWU N8,500 FOR 45GB, validity 14 days
WAWU N10,000 for 96GB, validity 14 days
Also note that Unlimited Weekly price is now N5000, while the unlimited monthly remain unchanged.
Now you should be thinking of alternative network if you are not satisfied with the new revised ntel wawu plan. Let us know what you think.