Xiaomi will be debuting a new Redmi smartphone with 48-megapixel camera on Jan. 10. Since Xiaomi is yet to confirm on the name of the phone that will be announced in this week, the rumor mill is speculating it could be announcing the Redmi 7 or Redmi 7 Pro or Redmi Pro 2.
The alleged device popped up on Geekbench, revealing a Snapdragon 660 chipset. In the single-core test of Geekbench, the Redmi Note 7 has scored 1462. In the multi-core, the smartphone has recorded 4556 score.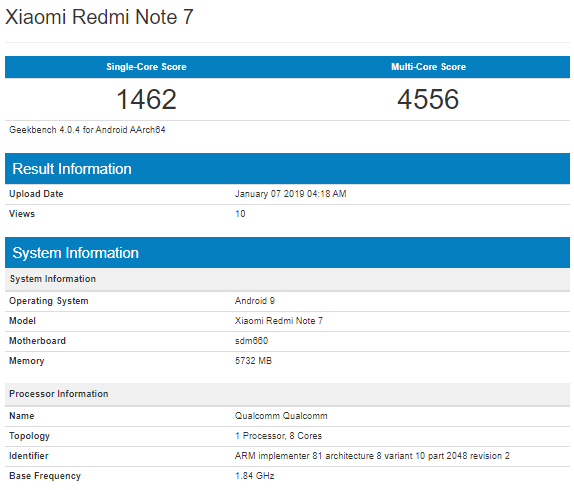 According to the alleged Redmi Note 7 listing on Geekbench, the upcoming budget Android smartphone will run on a 14nm Qualcomm Snapdragon 660 AIE octa-core processor.
In comparison, the current Redmi Note 5 runs on a Qualcomm Snapdragon 625 octa-core processor. The Redmi Note 6 Pro, which was launched in September last year, runs on a Snapdragon 636 processor. If the Geekbench listing is not fake, this means the Redmi Note 7 will be a significant upgrade over both its direct predecessor.
The OS is listed as Android 9, meaning this device will be the first Redmi with Android Pie out of the box and just the second Xiaomi device in general after the slider Mi Mix 3. Geekbench also reveals the Redmi Note 7 will come with 6 GB RAM, leaving a beam of hope we might see a Redmi Note 7 Pro with 8 GB RAM.