This is an article culled from Forbes and it really shows the country with the highest and cheapest data cost around the world.
Do this, calculate how many Gigs of data you've used from January till date, convert the equivalent to cash and tell us how much it is.
According to Forbes, For smartphone users fond of heavy streaming, mobile data doesn't always come cheap. In fact, the cost of a gigabyte of mobile data varies hugely between countries.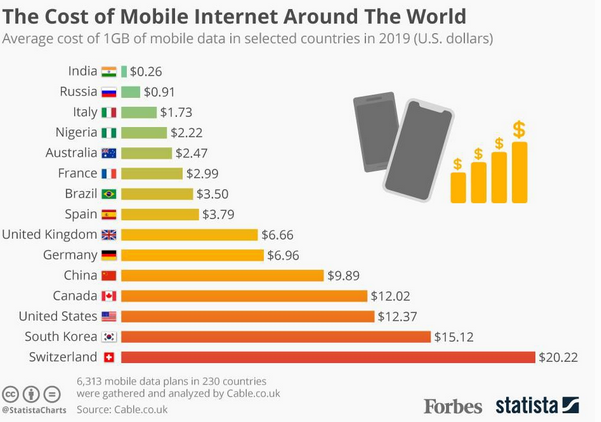 UK-based price comparison website cable.co.uk recently released an extensive analysis of mobile data pricing across the globe which focused on 6,313 data plans across 230 countries. India was named the cheapest country for one gigabyte of data with the average cost in U.S. dollars only coming to $0.26. Kyrgyzstan came second with $0.27 while Kazakhstan rounded off the top-three with $0.49.
Zimbabwe is the most expensive country for data where a gigabyte averages $75.20, 289 times as much as in India. The following infographic provides an overview of pricing in 15 selected countries with noticeable differences immediately apparent in Europe.
Taking a look at Nigeria, you can see that we still have a reasonable cheap internet compare to the developed countries. I GB in Zimbabwe cost roughly N27,000; and here some of you are complaining that data is expensive.
Would you please give our Telecom provider accolades for giving us cheap data plans…