Password sucks, people love to reuse them across every website and on their personal devices again and again… this is why Microsoft wants to completely get rid of it.
Microsoft believes that a PIN is more secure than a password even though it entails only 4 digits code. You'll soon be able to enable a passwordless sign-in for Microsoft accounts on a Windows 10 device. This means only your face; a finger or a PIN code will be required to sign you in.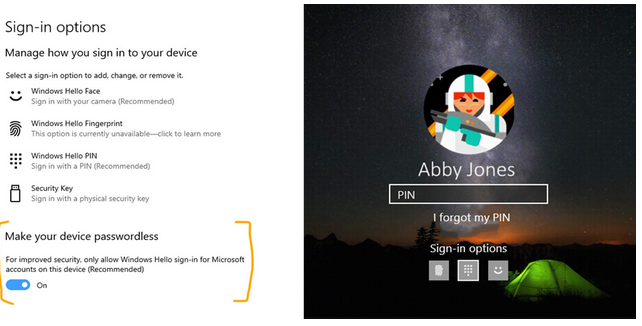 The password option will simply disappear from the login screen, if you decide to opt in to this new "make your device passwordless" feature. Already the new release of Windows 10 insider preview gives you that option to make your device passwordless.
You'll have to use Windows Hello face recognition, fingerprint detection, a PIN code or a physical security key to unlock your system. If you don't already have Hello enabled, Microsoft will walk you through it the next time you sign in.
The feature is only available on a "small portion" of user's PCs at the moment, so it may take a while before it rolls out to everyone.
Microsoft is now giving people the option completely remove the password option entirely from the Windows 10 login screen. No more "I can't remember my password", "reset password"… the question is will you go with this option?
Source: Windows Insider