Hey guys! I guess you all had a wonderful  Easter celebration.  Today, I will be teaching you on how to make
your blog look professional with
blogger template
. It's obvious that there are so many blogger sites on net but
they don't know how to make it look professional.  Do you know that you can make a superb company
site with
blogger
? Do you know that you can design a site like
Vanguardngr
,
Punch
,
icon5ive
, etc with blogger?  Now
you are talking. To be candid with you, the way your blog look will determine whether your visitors will stay  long on
your site or not. After this tutorial, you will discover that you don't need to
waste money buying
hosting account
when you have unlimited space on blogger
account.  In short, hosting account stinks
because they can go down at anytime; but thanks to google for helping bloggers
host their account free of charge.
Here is a step by step guide given below on how to upload a
Blogger template.
Free blogger templates
You don't need to be good in any coding to do this. Your custom blogger template
would already have a unique and beautiful design. You don't need to worry about
your blogger blog design or Installing/Uploading a blogger template. It is so
easy, just follow the instruction given below to install a Blogger template
into your blog.
Before getting started, download your new blogger template to your computer(you
can download free blogger template here). If you already have downloaded it,
extract it to any folder. Now browse this folder and make sure there is an XML
file in the folder. This XML file is your blogger template and will be uploaded
to your template.
Now Follow the step by step tutorial to upload/install
blogger template into your blog.
How to Upload Blogger Template:
Step 1. Login to Your Blogger Account.
Step 2. Select your blog and click on "Template" on the right Drop Down Menu.
www.yomiprof.net
Step 3. Now Click on "Backup/Restore" Button on Top Right side.
www.yomiprof.net
Step 4. A Popup window will appear, Now click on "Browse" button. Locate where you store the xml file on your computer.
www.yomiprof.net
Step 5. Select your template that must be XML file and click Open. (Check the picture below)
www.yomiprof.net
 Step 6. Now click on "Upload" button.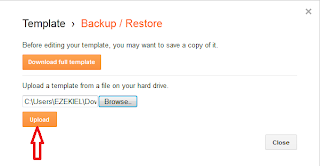 You are now  done. Go to your Layout section to rearrange your widgets
as your need. Now Click on "View Blog" to see the changes. Your blog
would have a new look.
This is the easiest way to upload a blogger template in your blog.
All
the guys and ladies who hosted their site on blogger, you can easily
make use of this steps, and make your blog look professional.
FAQ
Where Can I Get A Professional Template?
Answer:
You can google it out. But i have one for you, for those who have a
News Magazine site. you can download this template here. Unzip it and work with the xml.
And you can also find more free blogger template here http://btemplates.com/