While we are still mourning the free browsing stuff for those
whose magic sims where tracked, I will like to introduce you to a very unique
application that allow you to
make free calls
, video sharing, text and photo sharing.
Viber
is a proprietary cross-platform instant messaging
voice-over-Internet Protocol application for smartphones developed by
Viber
Media. Viber app has a
Skype
rivals, let you do almost everything Skype app can do.
Viber allow you to make calls to any number for free so long the person is on
This is how Viber works, Viber syncs your contacts, messages and
call history with your mobile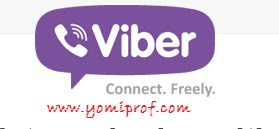 device, so you can start the conversation on the
Viber mobile application and continue from the comfort of your PC.
Why Should I Use Viber app?
Because with Viber application on your device, you can do the
following:
1.
Best-quality HD
voice calls
2.
Video calls
3.
Free text and
photo messages
4.
Group
conversations
5.
No registration,
passwords or invitations required
6.
Contacts and
messages sync between your mobile and Windows
7.
Transfer ongoing
calls between devices
But the most important aspect about this application is that, it is compatible
with all device except
Java phones
and
Blackberry
10. Imaging me on Viber
network and you are on Viber network, then there is no need to keep wasting my
money buying recharge card to call you as we can freely connect with voice calls
free of charge friends.
Where Can I Download Viber
1.
Nokia S40 and above users should visit Nokia
ovi store or download it
here
2.
Blackberry Users should visit Blackberry app
world or download it
here
3.
Android users should visit Google play or
download it
here
4.
Iphone users should visit iTunes to download
Viber

You've got questions? Go ahead and ask making use of the comment box.