Guys Mtn
magic sim
is back and working well; it is not blocked. Check your own if it stopped working, it should now be working fine. If at all anything happen to your sim, their are always new methods for activating it afresh. I will share a new method with you guys asap. For the fact
that Mtn track your
magic sim
doesn't mean you shouldn't enjoy
free browsing
again; infact, I have good news for everyone; Mtn
is seriously ditching out 1Gig
data for free. I don't know if this is for everyone but surely I am a
beneficiary.
I was seriously amazed this afternoon when I angrily called a colleague
of mine on my other mtn line; they exhausted the money I recharged without any
notification. When I then dial my balance, I saw 0.00. I then proceeded to dial
*559#, low and behold, I saw 1Gig data plan. How manage? The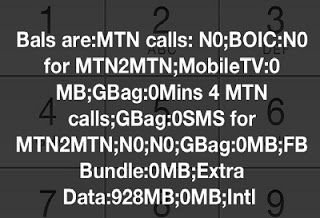 China hacker said
it is your luck.
So if at all your
magic sim
has stopped working, just do the following to
see if you will be lucky enough to get 1Gb free of charge like me.
How Can I Get 1Gb Free Data From Mtn?
1. Load #100 on your pulse line
2. Use it until it remains 0.0 naira.
3. Then check your balance by dialing *559# and see if you will be rewarded with 1024Mb left.
The question is,
why is MTN giving out all this freebies since last weekend. Throughout last
week, I make the hell out of
free calls
. Now again Free 1gb on my pulse line.
Can someone tell me what is happening here?
Tested and Confirmed.