I'm pretty sure all
Android
and
iPhone
users are seriously
waiting like ballot paper to celebrate their birthday on 21st & 22nd of
September as
BBM
will be officially available for download for these
two operating system. I know it's
what everyone has anticipated for and finally it's here.
I don't know if this is true or not that if you are not
running OS 4 and above, BBM won't work
on your
Android phone
but lets wait till the final offical launch.
Someone demanded for this tutorial and as promised, I will
quickly give you simple steps on how you can upgrade MyTouch 4G to android OS
4.1.1 Jellybean.
Requirements
1.
A computer
2.
CyanogenMod 10 Rom Package
3.
Gapps Package
Before You Upgrade, Do The Following:
1.
Back up all your data and messages, call logs,
contacts etc as it's going to wipe out everything on your phone.
2.
You need to disable the antivirus and firewall
from your computer and MyTouch 4G device respectively as this may cause
interruption during the installation process.
3.
Go to Settings > Applications >
Development > USB debugging'. Tick the USB Debugging option box when you get
there.
4.
Make sure your battery is fully charged at least
80% just to ensure that it won't turn off during installation of Jellybean
5.
You need to have your T-mobile 4G rooted with
latest CWM Recovery installed on it.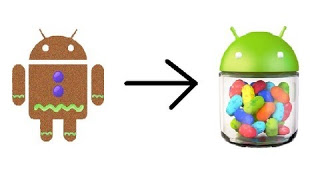 Follow This Steps To Upgrade To Jelly Bean
Now that you have the above in place, we can now begin
Step 1: Connect your
Htc MyTouch 4G to the Computer via USB data cable and place all three
packages to the root of the SD card.
Step 2: Turn off your myTouch 4G device and boot into recovery
mode just by pressing and holding the Volume Down and Power buttons
simultaneously. Soon, it will boot into
the HBOOT mode. Then, using the Volume button navigates to the Recovery and
press the Power button to enter into Recovery Mode.
Step 3: Once you're in Recovery mode, backup of your current
ROM for which you need to select Backup and Restore
and then Backup should in case your device
go A wire, it can always be recovered via back up.
Step 4: Then, select 'wipe data/factory reset' and 'wipe
cache Partition' option to wipe all data from your device. Then, navigate to 'Wipe Dalvik cache'
under Advanced option and select it.
Step 5: After completing wiping,
you need to select 'install zip from SD card' and again select 'choose zip from
sdcard' to browse for CM10_Desire_S_nk111_8-6-2012_port.zip
file from your SD card. Then, confirm the installation by selecting
'Yes ____.zip' which appears on the next screen.
Step 6:
Then, repeat the above process twice with the replacement of
'CM10_Desire_S_nk111_8-6-2012_port.zip' with Google Apps package
'gapps-jb-20120717-signed.zip' and microphone fix package 'LowMICfix.zip'.
Step 7:
Then, select '+++Go Back+++' option to return to the main menu and select
'reboot system now 'to restart your device.
Once you complete this process,
you Htc MyTouch 4G will be branded with 4.1.1 Jeallybean
For other Android phone still using gingerbread that you wish to upgrade please specify so that i can help you with steps on how to upgrade it.