If you are using a glo line or you've abandone your glo line for some period of time, i'll suggest you opt into your wallet and check it out perhaps today might be your lucky day.
Glo Nigeria seems to be happy today as they've been dishing out 100MB with #200 airtime to call any glo
network.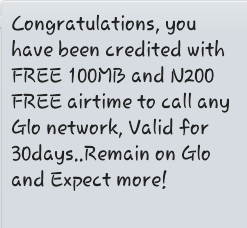 This was the text they sent to me below:
"Congratulations, you have been credited with FREE 100MB and N200 FREE airtime to call any Glo network, Use it Now… Remain on Glo and Expect more!"
Funny enough, this 200MB of a thing appears on my 3 Glo sims. So go and check yours Now!