Unique fonts on Android really makes your chat, messages
looks sweet like
candy crush
… It has a way of customizing your text design
which is actually cool; unlike the normal default font looking so dull and
totally unromantic.
iFont
is one of the best if not the best font installer for
all
Androids
. The app is design to install beautiful fonts on your Android
device. It makes your phone distinctive, beautiful and if care is not taking,
it can swing your mood… (lol)
You have 100s of fonts to choose from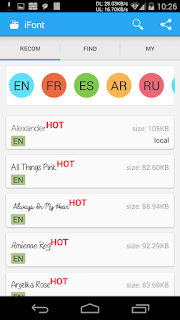 Requirements & Procedures
==>Your phone must be rooted
==>Download iFont from Google Playstore or
here
==>install and launch the iFont>>Click on the font
your wish to install
==>Wait for some minutes for the fonts to download until
its completed
Note, your phone will automatically reboot once you confirm
that you want to set downloaded font as default.
You can now enjoy your new fonts on your Android device.
FAQ
What if it brick my phone?
Ans: Download Auto Font Unbricker
Auto fonts unbricker was created by
Hovatek
to help
unbrick  Android phones bricked by
changing fonts. Even if you don't have a PC, there is a provision to still
flash the auto fonts unbricker on your device.  Make sure you have
CWM recovery
(optional) installed on
your device. Please visit
here
on how to use the Auto Font Unbricker if your
phone happen to be bricked by the font.