I can't just imagine that so many of you
believe this name JiJi only exist in your imagination but has never taken out
time to even Google it out.
Jiji
a Nigerian free online
classifieds website is an arena that provides buyers and sellers, job hunters
and employer's the avenue to meet and exchange goods and services. Jiji is an
online exchange platform that gives everyone an opportunity to make money by
selling any old/new stuff you don't like or don't want to use again. The truth
is, with
Jiji
you can sell as little as your infected, defected and rejected
Samsung Galaxy Tab
; or as big as your house or a car.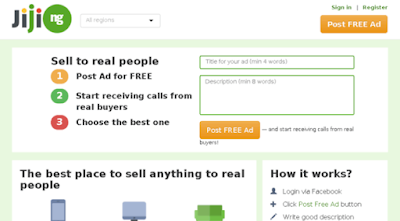 Not just that, but even Job hunters can easily get in touch
with various employers who daily post Job vacancies of their company. It is an avenue to advice your used cars for sale, old wedding dress for sale or even your businesses.
To start with Jiji
==>Click on register and enter necessary details and
click on register
==>You should now begin seeing the categories your
products fits in.
If you are a Job hunter, I'll advice you visit the job
sections for daily uploaded jobs by employers across the 36 states. Don't just
allow that your old Smartphone or Tab to be under-priced, go to JiJi and sell it
because buyers are anxiously waiting to buy it.