This is all that has happened from the beginning of this
week. Airtel decided to data bomb you with their new revised data plan as seen
below … this is indeed data war.
Get 5GB for N2.500 dial *437*1#
7GB for N3,500 dial *438#
3.5GB for N2000 dial *437#
1.5GB for N1000 dial *496#
750MB for N500 dial *418# Valid for 14Days.
And 12GB for N5000

Airtel Unlimited Night Plan
The unlimited night plan that Airtel unjustly increased the subscription price, is
now normal but on a new plan entirely.
Airtel's Unlimited Night Plan gives you unlimited download
between the hours of 11pm and 6am. Unlike what their elder brother gives you
from 12am – 4am.
To Get The Airtel Unlimited Night Data plan
1. N100- Unlimited browsing for 1 hour between 11pm and 6am
2. N200- Unlimited browsing for 2 hours between 11pm and 6am
How to subscribe to the Airtel Unlimited Night data plan?
1. Migrate to the Airtel SmartTRYBE by dialing *312#
2. Dial *312*3# to subscribe to the Airtel Unlimited Night Plan
MTN
Introduced 1GB for N500 but on deal zone package for pulse
users. With just N500, 1GB will be smiling at you. Dial *406*2# (offer valid
for 15Days).
Etisalat
While others were busy unveiling, revealing and releasing,
Etisalat was busy strategizing… I haven't try any of these plan but according to
source, you can get …
6.5GB
for N3,500(formerly 4.5GB). Dial
*229*2*9#
16GB
for N8000 (formerly 8GB). Dial *229*2*5#
22GB
for N10,000 (formerly 10GB). Dial *229*2*1#
For
N18,000 monthly, you now get 42GB (formerly 20GB). Dial *229*2*3#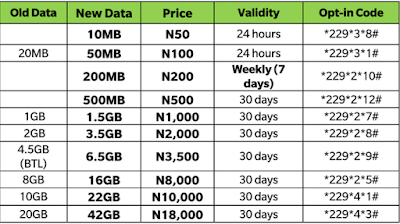 Well, my hands are still crossed gazing closely what
Etisalat is about to do… observing baba glo slow internet connection. #TGIF!