Permit me to anoint your Android device with the anointing for
speed… I know some
Android
devices can be
sluggish
,
lag-gish
and
mumu-ish
at
times… kai! This can be so annoying, but there is always an anointing that will
cure every slow motion Android smartphones.
I've done this before but I'm going to
do this again because I'm aware that we now have some new intake
in the house, new to
Android operations
, selfie freak, game freak and they know
nothing about their Android devices other than to change
imei
.
By the time the anointing will get to you, you'll know if
you are the boss of your device or the boy of your device.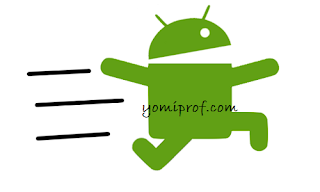 No third party application required, no tweaking required…
the only requirement is just common sense. So put on your seat belt and ride
with me because the anointing your device is about to receive will take your
pass your destination without knowing.
How Can I Make My Android Smartphone Super Fast?
1. First, you'll need to enable access to the hidden "Developer
options" menu on your Android phone. To do that,
simply tap the "About phone" option in Settings.
Then tap "Build number" seven times and you're done.
Now you can just back out to the main Settings menu and
you'll find Developer options somewhere near the bottom of the
list.
2.
Now that you're done with that part, let the real fun
begins.
Tap the new Developer options menu
you just enabled and scroll
until you see the following three settings (note that they may be located
within an "
Advanced
" subsection):
Window animation scale
Transition animation scale
Animator animation scale
3. By default, each of those three options is set to "1x"
but tapping them and changing them to ".5x" will dramatically speed up
your phone. This harmless tweak forces the device to speed up all transition
animations, and the entire user experience is faster and smoother as a result.
This is how you know if you are using an Android device or
just a mere phone… Are you the boss or just a boy?