Now that we
have more people into online business, the best time to talk about Domiciliary
account opening is now. Because in one way or the other, you will always want
to transact business that involves foreign currency.
I do receive
foreign currency from my clients abroad, but not into my Naira account. If you
have been receiving foreign currency into your Naira account, then you are
being cheated because bank rate is not the same as black market rate. As at
today 02/08/2016, dollar exchange rate from black market is 381 while inter-bank
exchange rate is pegged at 320. You see the difference?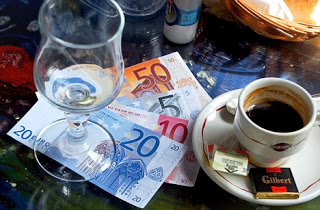 What is Domiciliary Account?
Domiciliary
account is a bank account in Nigeria that is operated in foreign currency. The
account allows you save money in US Dollars, Pounds Sterling or Euro with your
money valued at the prevailing exchange rate. This account is funded through
bank deposits, traveller's cheques, cash inflows and lodgement of foreign
currency cheques.
Note that
you cannot transfer money from a naira account to a dollar account. But you can
easily transfer money from DOM account to another DOM account
So if you
are a serious
online business
entrepreneur, and you don't have a DOM account,
then you should consider opening one for yourself. This is why I don't too
border about
PayPal
not receiving money because I use my DOM account to receive
money from online stores abroad.
How to Open
a Domiciliary Account in Nigeria
Many banks
offers this services but I'm going to focus mainly on three (3) banks. GTB,
Zenith and First bank.
How to Open
a Domiciliary Account With GTBank Nigeria
Requirements
1. Identification
Card: This simply means, valid Identity card like International passport,
drivers lincense, National ID card.
2. 2 clear
passport photos recently taken
3. 2 referee:
Two persons that would serve as referee
and fill each of the two reference forms that will be issued to you are
required. Both referees need to have a current account each preferably with
GTbank to facilitate opening of the account.
4. Utility
Bill: Photocopy of your Utility bill issued in not more than 3 Months
Once you
have the above completely in place,
>>Visit
any
GTB
branch closest to you and walk straight to their customer service
department.
>>Request
for Dom account opening process and you'll be guided through on what to do.
Zenith Bank Domiciliary Account Opening
Requirements
1. Account
Opening form duly completed & signed.
2. Two (2)
specimen signature cards duly completed.
3. Two (2)
recent clear passport size photographs with your name and signature written on
the reverse side.
4. Residence permit (where applicable).
5. A valid form of I.D. (International Passport, Driver's License or National
I.D.)
6. A copy of a Public Utility Receipt (not older than 3 months)
7. Initial Deposit.
8. Two (02) References.
9. Make sure
you have an active account with the bank operating in not less than 6months.
Once you
have the above in place, walk in to any Zenith bank and request for Domiciliary account opening. You'll be guided on what next to do.
First Bank Domiciliary Account Opening
Requirements
1. Minimum
opening deposit of of $500, €500 or £300 (you can always withdraw some part of
the money leaving a minimum of $100 or £50)
2. Valid
means of Identification: e.g International passport, National ID or Drivers
lincence.
3. Two (2)
independent and satisfactory references (For Checking account only)
4. Two (2)
recent passport photographs are required
5. Utility
Bill, to verify your address
6. Resident
permit (for non Nigerians)
Once you
have all the above in place,
>>Visit any Firstbank of Nigeria
closest to you
>>Head straight to their customer
service desk and request that you want to open a domiciliary account with them.
>>You might be asked if you already
have current or saving account with them before. If you don't, they will open
one (current or saving) alongside with the domiciliary account.
>>After that, you will be given a
foreign currency account opening form, and specimen signature card to complete
and sign.
>>You can decide to take all the forms
home , fill them properly and return back with them to submit
>>After they must have gone through the forms and make necessary
corrections, you will be asked to go home.
>>Within 48-72hours, you will receive
an SMS indicating that your domiciliary account has been open with your
account.
>>Go back to the bank and pay in the
minimum deposit to activate the account.
It is as simple as that. Receiving money in
dollars, Euro and Pounds is very important if you are a blogger, online
entrepreneur, PR or a freelancer.
Feel free to share your own
experience with other banks which are not mentioned here.