Infinix users, are you ready to receive ota update on your Infinix device? Infinix never leave their own stranded… So long you are using a
standard Infinix device; you are one step ahead to getting Android 7 Nougat
update.
According to Infinix,
Android 7.0 Nougat
updates will be
coming to
Note 3, Zero4 and Zero 4 Pro
in matter of days or weeks but won't be
too long. No word yet on other infinix smartphones.
However, earlier Infinix rollout Android 7.0 beta updates
for Infinix Note 3 and Note 3 Pro users in which I'm going to share below.
Requirements
>>Make sure you are not rooted
>>Back up your device, documents and important files
in order to avoid stories that touch
Note: Before you proceed, this updates is still in beta
stage meaning it may contains some bugs that may cripple your device… but if
you are man enough, proceed.
Steps to Update Your Note 3/3 Pro to Android 7.0 Nougat
Download the software below: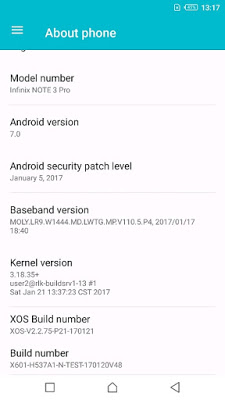 How to Install The Updates
>>To install via your PC, follow this
guide
here
>>To install through your SD card
(without PC), follow this guide
here
However, if you don't want to pass through the above stress, you
can simply wait for the OTA updates that will soon begin to roll out.