Maybe this is probably why some you are experiencing all
manner of pop ups, annoying ads and viruses on your smartphone… perhaps you are
using a fake whatsapp.
An app pretending to be an update of WhatsApp was downloaded
over 1 million times
on Google
play store before it was removed by Google.
The app, dubbed "Update WhatsApp Messenger,"
appeared as if it was developed by the real firm behind the
program,"WhatsApp Inc.".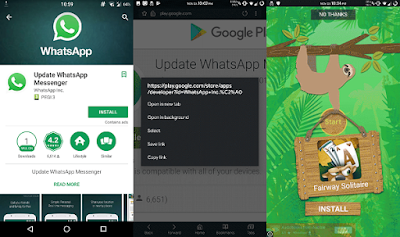 Redditors also claim that the app displayed ads, and was potentially capable
of installing software on the users' devices.
However, those who constantly received updates from the WhatsApp app they
have always used will not be in any way affected by this.
Are you part of the 1Million people who download this fake whatsapp?