Google has changed the name of
Android Pay to
Google Pay
. In other
words, say goodbyes to both Android Pay and Google Wallet.
The application was renamed as part
of an update which added new features, including new Home and Card tabs.
The Card tab allows you to
consolidate your credit and debit cards, loyalty programmes, offers, and more,
while the Home tab lets you access recent purchases, helpful info, and rewards.
The platform functions in the same
way as it did before the rebranding, added Google.
Google Wallet has also been renamed
to Google Pay Send, in line with the application's rebranding.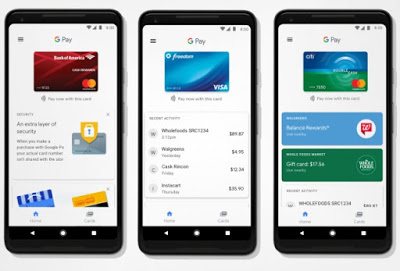 How Does it Work?
This new mobile payment app by Google does not share your
card number when you use it to make a payment. Once you have a debit or credit
card stored on it, simply select google Pay at checkout. The app will handle
the rest. The app supports NFC for mobile payments, as well as payments for
web-based shopping exercises.
In the future, all Google products should support Google
Pay, including Chrome and Google Assistant. You should also increasingly see
Google Pay accepted on websites, in apps, and "at your favorite places
around the world".
Where Can I Download Google Pay?