One of the things you can't take away from humanity is
internet surfing; it has come stay for good. In as much as you love to surf the
net, you also love to download. This plan has been around for a while and only
accessible to those using ntel sim.
Ntel 4G
network is fast in most locations atleast from the
locations have been too, and they have one of the best 4G
data plan
even though
they unceremoniously increased the price of unlimited monthly data plan to N17,500
last year.
Their unlimited plan has been dope. It allows you to
download unlimited with fast internet connection without any form of
throttling. If you have a larger file to download… then one of these unlimited plans
will go a long way to serve you better.
Ntel Unlimited U-Daily: it gives you access to the internet
with unlimited download for good 48 hours for N1500. It has no data cap.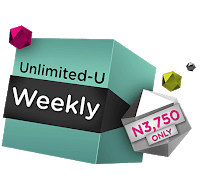 Ntel Unlimited U-Weekly: Gives you access to the internet
with unlimited download for 7days and it goes for N3,750. It has no data cap. You
can actually download more than 70GB if you wish to crumble the internet.
Ntel Unlimited U-Monthly: Goes for N17,500. I actually
prefer the weekly because if you calculate the price of the unlimited weekly,
its not upto the price of the monthly.
Ntel
Unlimited Night plan
: If you don't want to stress
yourself with any of the above, you can try out their night plan from 10PM-6am.